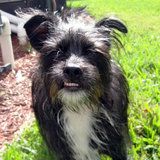 This months pooch pin up is all American mut, Theodore Roosevelt Smith or "Teddy" for short. Young Teddy was found wandering on a busy residential street and was saved by his new parents. He has beautifully tangled wirey hair (even when groomed!) and a gorgeous under-bite that showcases his pearly whites!
Thanks so much to parents, Jennifer & Craig, for the photos.
Submit your Pooch for a pin up!
Email us a description of your Pooch and a photo
Tampa Bay Metro Magazine, "Best Of" 2011-
For the second consecutive year, Downtown Dogs has made Tampa Bay Metro Magazine's "Best of" list. Thank you so much for supporting us and giving us the title of "Best Doggie Shop."
Tampa Bay Metro Magazine, "Best Of" 2010-
Our store was voted "Best Place for a Dog to have his Day" in this years Best of the Bay issue of Tampa Bay Metro Magazine
Go Magazine, Air Tran in-flight magazine June 2008 -
Downtown Dogs was featured as Tampa's must go-to store for the latest in gear for dogs. Downtown Dogs and Outkast's Andree 3000 in the same magazine...now that's dog-gone cool.
People Magazine -
Our ever popular Jolly Rover collar by Ella Dish (shown in pink) featured as top picks to pamper your pooch.
The New Barker Spring 2008-
Downtown Dogs was featured in this seasons New Barker Magazine for our doggie vintage tee's, organic 'green' tee's, political dog treats, and our Planet Dog chew toys.
Humane Society of Tampa Bay Tuxes and Tails May 2008-
Downtown Dogs participated in this years Tuxes and Tails event hosted by the Humane Society of Tampa Bay. The celebrity and dog runway show featured fashions from popular store such as Anthropologie and Tommy Bahama, as well as Downtown Dogs.
Glamour Magazine July 2007-
Our Barkgello collar in Blues shown on this majestic great dane dog model
New York Dog April/May 2007-
Martha Stewart featured with dogs Paw Paw and Francesca (wearing our Bella Bean Couture Sweet Cupcake collar in pink) and Sharkey (wearing a Bella Bean Couture Mod Dots collar in chocolate).